You Box, We Buy is the simplest way to turn your Pokémon cards into cash. You Box, We Buy makes it so easy - all you have to do is box up your Pokémon cards and send them to us. Our expert team will sort, grade, and price your cards and we make an offer for your whole collection.

1. Fill out the form before sending your cards.

2. Package your cards and send them to the following address:
C/O You Box We Buy
1000 Stephanie Place STE 14
Henderson, NV 89014
3. Email your tracking information to support@cardshoplive.com
4. Your package is photographed on arrival
5. Your collection will be sorted and all non-bulk cards graded at: Near Mint, Lightly Played, Moderately Played, or Heavily Played.
6. We'll email an offer to you for your collection, once accepted payment is made via ACH Transfer, Check (mailed), PayPal or a Card Shop Live Gift Card.
* If the offer is declined, we'll have everything returned to you.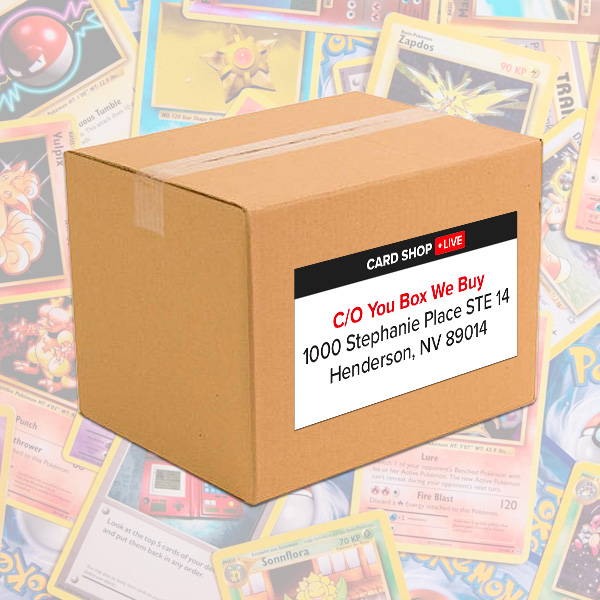 With current volume, customers can expect to have an offer on their collection within the following timelines:
1—1,000 cards: 7 Business Days




1,000+ cards: 14 Business Days



*For the most timely turnaround estimates, follow our suggested shipping guidelines.
For the most timely turnaround and to avoid any damage during transit, we recommend following the shipping/packaging guidelines below.
All cards should be facing and oriented the same way.

All cards should be unsleeved.




All cards should be securely packaged to avoid shifting around during transit.

Depending on the estimated value of your collection, we strongly recommending insuring your package.
When Should I Expect to Receive My Offer?
You will receive an offer via email once your collection has been received, photographed, sorted and graded. Please refer to the turnaround times listed above for an estimation on when you will receive an offer for your collection.

I've Accepted the Offer, When Do I Get Paid?
Once our offer is accepted and payment method is confirmed, payment will be issued on the following timelines:
ACH Transfer will be issued the same day
Checks will be issued on the Monday after the offer is accepted and can take 3-5 business days to arrive once it is mailed.
Gift Cards will be issued within one business day

Do You Buy Sealed Products?
Yes, anything prior to the Sword & Shield Base set we will purchase after verifying condition
Does Card Shop Live Pay for Shipping?
No, Card Shop Live does not cover shipping costs. Customers are responsible for covering shipping costs to our warehouse. If you choose not to sell with Card Shop Live, we will send back your collection at no cost to you.