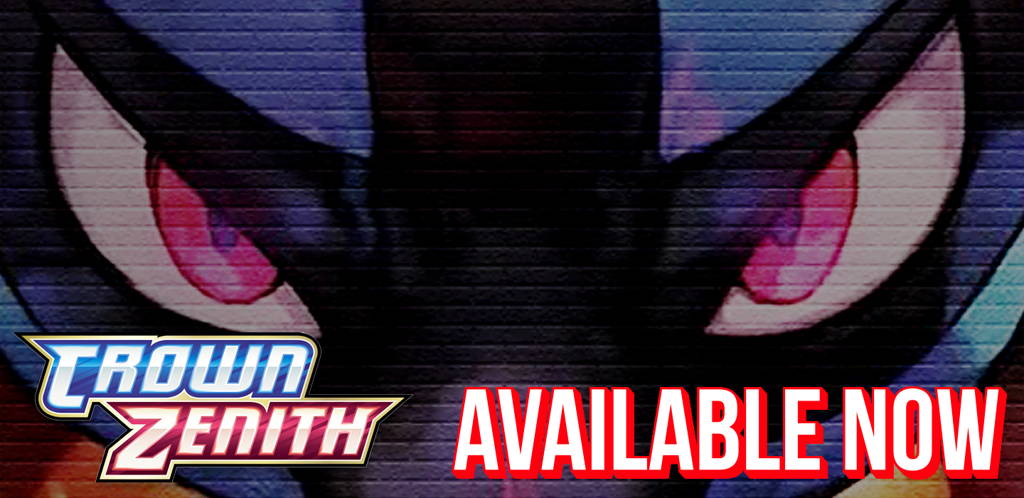 What Can You Find in a Crown Zenith ETB?
Hello everyone! We just received the brand new Pokémon set Crown Zenith here at Card Shop Live! We've cracked open a few packs and this set is a bit different to say the least. We're going to open an Elite Trainer Box and a few extra packs to show you what is in this long awaited Pokémon release!
There are a couple things to note with Crown Zenith. First, there is only ONE Secret Rare in the whole set. The Pokemon Company also changed the Trainer Gallery for the Crown Zenith set. Now, the "Trainer Gallery" is the Galarian Gallery. Which means they have gotten rid of a lot of the trainers and you're mostly going to see Pokemon in the gallery this time around. They have also made some slight changes - you'll notice that the golds have moved into the Galarian Gallery and this set features no rainbow cards.
Crown Zenith also features a full cycle of textured energy. This is special because for some of these energies, it is the first time they're featured with this treatment in an English set! Lastly, Crown Zenith will be the last of the Pokémon Sword & Shield series.
Crown Zenith Elite Trainer Box Package Contents
Crown Zenith is a special set which means each Elite Trainer Box from this new Pokemon set will include the following:


10 Pokémon TCG: Crown Zenith booster packs
1 Etched foil promo card featuring Lucario VSTAR
65 Card sleeves featuring Lucario
45 Pokémon TCG Energy cards
A player's guide to the Crown Zenith expansion
6 Damage-counter dice
1 Competition-legal coin-flip die
2 Acrylic condition markers
1 Acrylic VSTAR marker
A collector's box to hold everything, with 4 dividers to keep it organized
A code card for Pokémon Trading Card Game Online
The packaging is exactly what you expect of an ETB. They even include an awesome booklet for if you're a collector. You can use this booklet as a checklist to keep track of what cards you have opened from this set. If you're unfamiliar with the Elite Trainer Boxes, they're pretty good for kids because they give the feel that they're getting a ton of value.
Moving on to opening the box, this set has 10 packs to open like normal Elite Trainer Boxes. However, for the purposes of this box opening, we opened a few extra packs to try and cover all the important cards from this set.

There were a few big hits that we opened during this unboxing that we have listed below. Make sure to join our Crown Zenith breaks on Whatnot for a chance to break these hits!


Magmortar
Origin Forme Palkia VSTAR
Origin Forme Dialga VSTAR
Bibarel
Giratina VSTAR
Acreus VSTAR
Pikachu Secret Rare
It's important to note that this is NOT a summary of the Pokemon Center Elite Trainer Box PLUS. That is a different product and contains different items.
There you have it! The full breakdown of what you can find in a Crown Zenith Elite Trainer Box. Are you ready to crack open a box from Pokemon's latest set?

Pick up your Crown Zenith Elite Trainer Box today from Card Shop Live! Click the "add to cart" button now to get started.