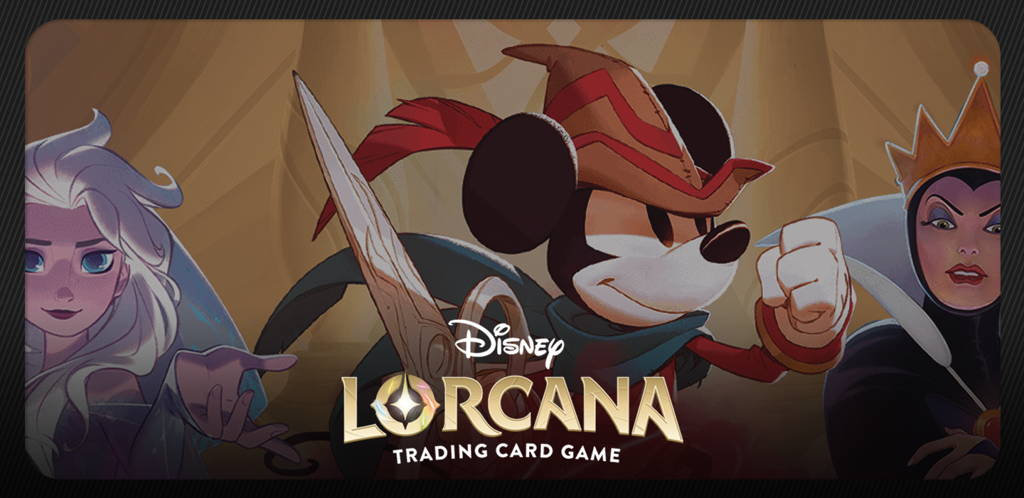 All The Information We Know About Disney's Lorcana
Disney brought new life to the Trading Card industry at their annual D23 expo last fall with the announcement of their new Lorcana Trading Card Game. Disney fans and gamers alike were eager to see what the power of Disney's brand and beloved characters would do to the market. We've finally got a look at the first "Chapter" and what fans can anticipate during the first set release, currently slated for release in your Local Game Store August 18, 2023 with a full retail release on September 1, 2023. Fans planning to attend GenCon 2023 in Indianapolis Aug 3-6 will get to try the game early.

Currently no information is available about how spoilers will be handled for Lorcana. We hope to see them roll the game out like popular Wizards of the Coast brand Magic: The Gathering with a few weeks of build up to the release. But it's always possible they could opt for the organic, last minute discovery that the Pokemon TCG utilizes.

Product Lines Featured in the First Chapter
Before we go any further, each of the products that have been announced contain at least 1 booster pack. Here's what you can expect to find when you open one.
Packs will contain twelve random cards.
6 Common cards
3 Uncommon cards
2 Rare, super rare, or legendary cards
1 Foil card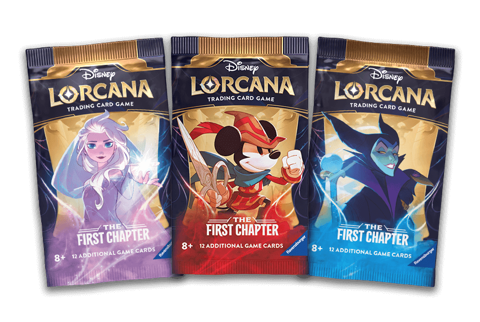 Lorcana will launch with 3 ready-to-play decks featuring iconic, although unusual, character pairings. The ink combinations give you a chance to try each inks play style:
Amber and Amethyst | Moana/Micky
Emerald and Ruby |Cruella De Vil / Aladdin
Sapphire and Steel | Aurora / Simba

Each of these starter decks contain 60 cards, including 2 foil cards of the characters featured on the packaging. You'll also receive 11 Game tokens, 1 Rulebook and 1 Booster pack containing 12 randomized cards. Each of these decks have been designed and tested by the Lorcana Team - so they're the perfect place to start.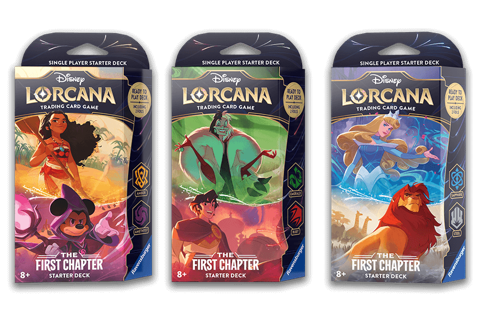 Lorcana will also be offering a Gift Set! The gift sets will include two collectible oversized foil cards and two playable foil game cards in addition to game tokens and four boosters. The featured characters for First Chapter will be Mulan – Imperial Soldier and Hades – King of Olympus.
The Illumineer's Troves were designed with collectors in mind! It contains a full art storage box, 2 Deck boxes, 8 Booster packs, a Player's Guide and more! This product's contents are similar to the Elite Trainer Box offered by Pokemon or the MTG bundle.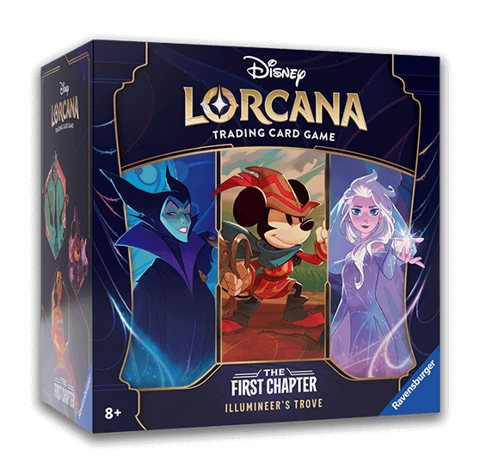 During the D23 Lorcana announcement, some mechanics of the game were unveiled. At this time we have a small list of key terms from the cards that have been previewed. Several popular trading card games have already broken ground in this space, Disney appears to be taking notes from their experience. The mechanics and language used in what we know of the game so far should make for an easy learn to play experience both for transitioning TCG consumers and new players alike.

The cards will start in a deck (the intro decks will be 60 cards, it is unclear at this time if that will be the minimum size, maximum size, or recommended average size of the deck.

The game will feature 6 inks, or color groupings:
Amber
Amethyst
Emerald
Ruby
Sapphire
Steel
It's unclear if ink will actually be a resource used for playing cards or is just the name of their color identity system.
The language we've already seen from these cards, indicates that like many other TCG's Lorcana will have multiple zones/states a card can exist in after it leaves its deck.
Challenge (Featured on Robinhood) – Forces one character to battle enough, possibly like the flight mechanic we see in MTG. Similar mechanics also exist in Hearthstone and Legends of Runeterra
Evasive (Featured on Mickey) – Only characters with Evasive can challenge this character
Shift (Featured on Stitch) – You may pay (an amount), to play this card character on top of another.
Exert (Featured on Elsa) – The ability seems to echo MTG's tap ability, where cards are rotated 90 degrees to show they're 'spent'. This allows you to perform this action on another card.
Banished (Featured on Cruella De Vil) – sent to a graveyard or discard pile.
Triggered Ability - Seen frequently in games, an ability that takes place when a character enters or leaves a zone is outlined on a few of their cards.
That's everything we know, as of now, regarding Disney's Lorcana! We are excited about this brand new Trading Card Game hitting the market and can't wait to get our hands on these cards. We will update this article as more information about Lorcana and the first chapter is released.
At launch, Disney Lorcana: The First Chapter will be available in English, French, and or German, with plans to release four sets a year.